All-purpose conveyance solution for the conveyance of unit loads

for continual material flow between machines and areas
Products
Mini module conveyor belt with motor-driven roller
Conveyance of unit loads up to 5 kg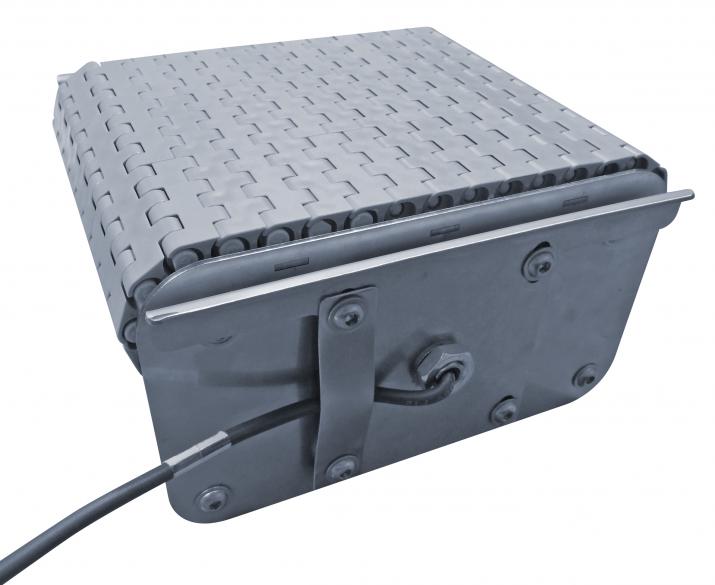 Frame structure
Special profile structure with bolted cross braces
Conveyor belt
Module belt, grey (PP, FTA-suitable)
Belt width: depending on application case and material to be conveyed
Standard widths
from 150 mm in 50 mm steps
Standard length
On request from 250 mm axle spacing
 
Drive
KRAUS motor-driven roller 24V, IP54
Reversal on both sides: Diameter 34 mm
Drive position centre with 78.8 mm diameter
Conveying speed: 3, 6, 9, 12, 15, 18, 24, 36 m/min
Surface finish
Anodised aluminium, zinc plated steel components
Advantages
Compact design as individual or connecting element
High flexibility
Maximum efficiency thanks to KRAUS motor-driven roller
Conveyor belt FB 50 ALU
Conveyance of unit loads up to 20 kg total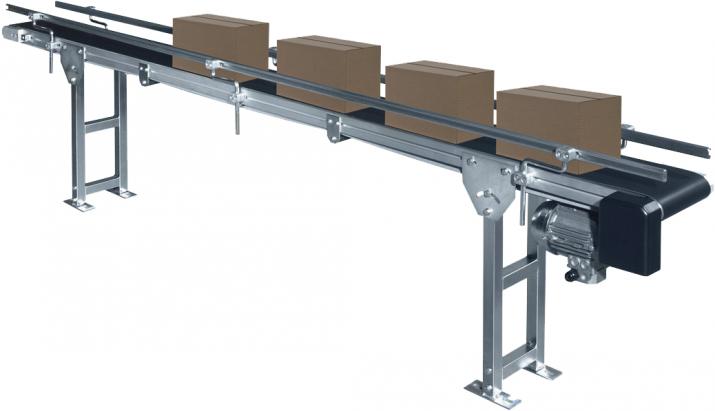 Frame structure
Aluminium system profile, anodised, with bolted cross braces
Frame dimensions: 50 x 50 mm
Conveyor belt
Standard PVC smooth, black
Belt width: depending on application case and material to be conveyed
Standard conveyor lengths
1000 mm, 2000 mm, 3000 mm, 4000 mm, 5000 mm
Drive
Three-phase gear motor 230/400 V – 50 Hz, IP55
Drum diameter: 55 mm
 
Standard drive position: on the right-hand side seen in direction of conveyance, directly attached to the drive wheel
Conveying speed: 6-30 m/min
Surface finish
Anodised aluminium, zinc plated steel components
Advantages
Safe and gentle conveyance of sensitive goods
Optimum adaptation possibility of belt version
Can be combined with any of our accessories
Conveyor belt FB 80 ALU
Conveyance of unit loads up to 50 kg total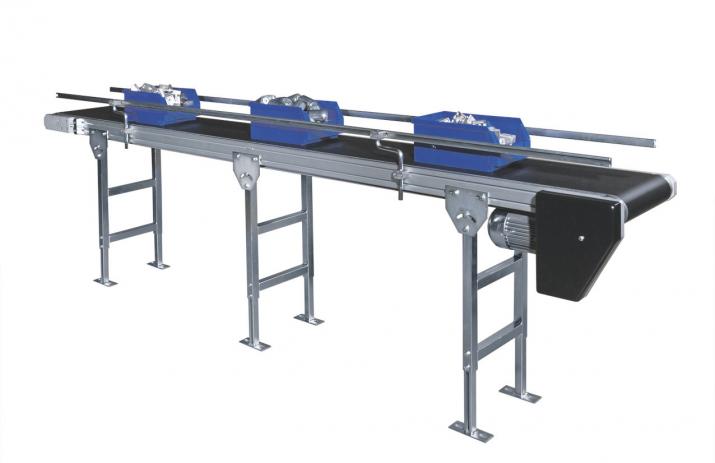 Frame structure
Aluminium system profile, anodised, with bolted cross braces
Frame dimensions: 80 mm x 40 mm
Conveyor belt
Standard PVC smooth, black
Belt width: depending on application case and material to be conveyed
Standard conveyor lengths
2000 mm, 4000 mm, 6000 mm, 8000 mm, 10,000 mm
Drive
Three-phase gear motor 230/400 V – 50 Hz, IP55
Drum diameter: 90 mm
 
Standard drive position: on the right-hand side seen in direction of conveyance, directly attached to the drive wheel or chain drive
Conveying speed: 3–36 m/min
Surface finish
Anodised aluminium, zinc plated steel components
Advantages
Safe and gentle conveyance of sensitive goods
Optimum adaptation possibility of belt version
Can be combined with any of our accessories
Combines the lightweight design of the FB50 with higher load capacity
Conveyor belt FB 90 STEEL
Conveyance of unit loads up to 100 kg total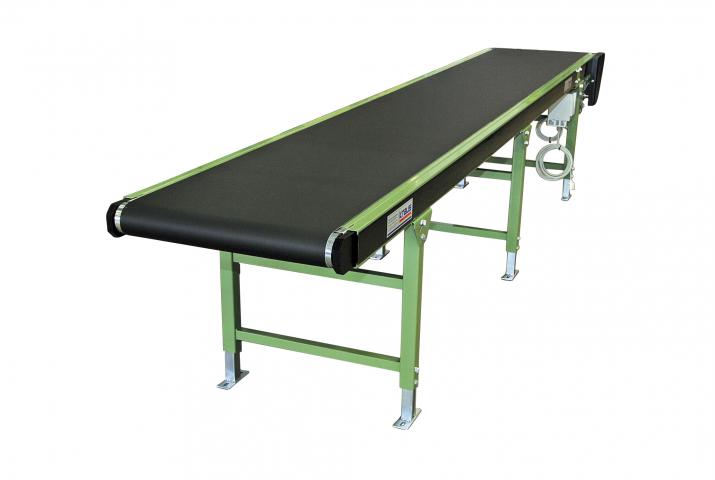 Frame structure
Steel C-profile, galvanised, with bolted cross braces
Frame dimensions: 100 x 30 x 2 mm
Conveyor belt
Standard PVC smooth, black
Belt width: depending on application case and material to be conveyed
Standard conveyor lengths
2000 mm, 4000 mm, 6000 mm, 8000 mm, 10,000 mm
Drive
Three-phase gear motor 230/400 V – 50 Hz, IP55
Drum diameter: 90 mm
 
Standard drive position: on the right-hand side seen in direction of conveyance, directly attached to the drive wheel or chain drive
Conveying speed: 6–30 m/min
Surface finish
Painted in RAL colours/galvanised
Advantages
Safe and gentle conveyance of sensitive goods, even if these have a higher weight
Optimum adaptation possibility of belt version
Can be combined with any of our accessories
Conveyor belt FB 150 STEEL
Conveyance of unit loads up to 200 kg total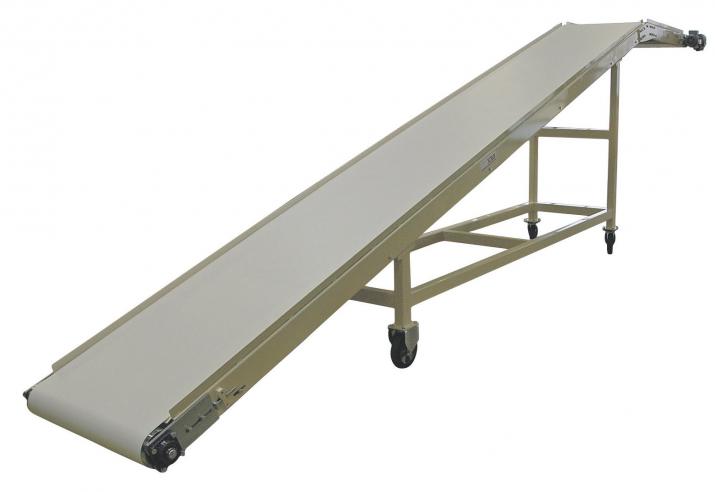 Frame structure
Steel plate (5 mm), canted, with bolted cross braces
Conveyor belt
Standard PVC smooth, black
Belt width: depending on application case and material to be conveyed
Conveyor length
on request
Drive
Three-phase gear motor 230/400 V – 50 Hz, IP55
Drum diameter: 150 mm
 
Standard drive position: on the right-hand side seen in direction of conveyance, directly attached to the drive wheel or chain drive
Conveying speed: on request
Surface finish
Painted in RAL colours/galvanised
Advantages
Use with high weight load
Optimum adaptation possibility of belt version
Can be combined with any of our accessories
Module belt conveyor FB50
Conveyance of unit loads up to 50 kg depending on design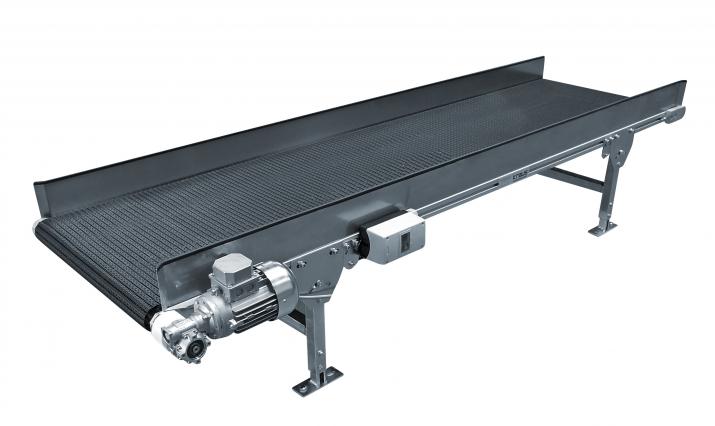 Frame structure
Steel C-profile, galvanised, with bolted cross braces
Frame dimensions: 100 x 30 x 2 mm
Conveyor belt
Module belt, grey
Belt width: depending on application case and material to be conveyed
Standard conveyor lengths
1000 mm, 2000 mm, 3000 mm, 4000 mm, 5000 mm
Drive
Three-phase gear motor 230/400 V – 50 Hz, IP55
Drum diameter: 50 mm
 
Standard drive position: on the right-hand side seen in direction of conveyance, directly attached to the drive wheel or chain drive
Conveying speed: 3-36 m/min
Surface finish
Painted in RAL colours/galvanised
Advantages
Simple maintenance
Highly flexible width : length ratio
Belt surface easy to clean
Form-locking drive element
Can be combined with any of our accessories
Module belt conveyor FB90
Conveyance of unit loads up to 100 kg depending on design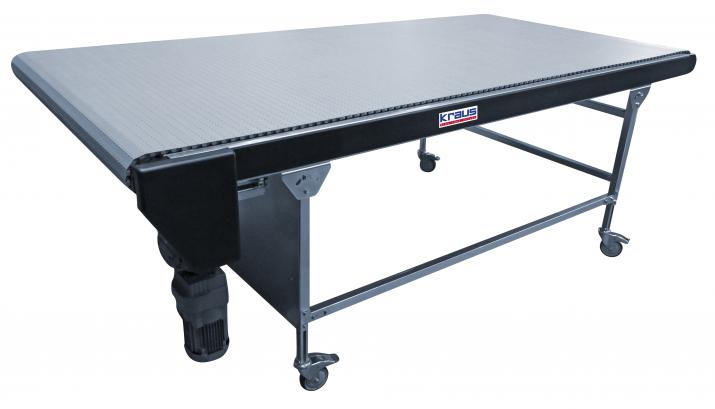 Frame structure
Steel C-profile, galvanised, with bolted cross braces
Frame dimensions: 100 x 30 x 2 mm
Conveyor belt
Module belt, grey
Belt width: depending on application case and material to be conveyed
Standard conveyor lengths
1000 mm, 2000 mm, 3000 mm, 4000 mm, 5000 mm
Drive
Three-phase gear motor 230/400 V – 50 Hz, IP55
Drum diameter: 90 mm
 

Standard drive position: on the right-hand side seen in direction of conveyance, directly attached to the drive wheel or chain drive
Conveying speed: 3–36 m/min
Surface finish
Painted in RAL colours/galvanised
Advantages
Simple maintenance
Highly flexible width : length ratio
Belt surface easy to clean
Form-locking drive element
Can be combined with any of our accessories
Angled belt conveyors
Load capacity max. 200 kg total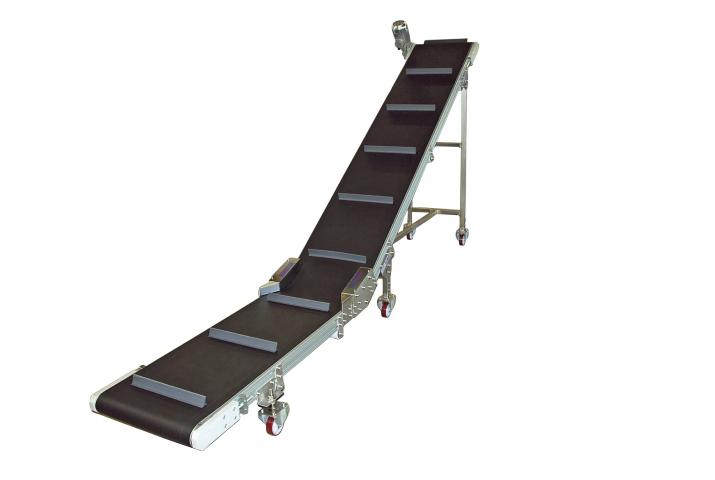 Version
Angled belt conveyors permit stepless, uninterrupted transitions with horizontal inflow and/or discharge zones.
These horizontal conveyor belt zones guarantee smooth transition of the products to the conveyor belt or from the conveyor belt to further Systems.
An angled belt conveyor version is possible for all conveyor belt types (FB 50 ALU, FB 80 ALU, FB 90 and FB 150).
 
Advantages
Very good pick-up or discharge of the conveyed products
Stepless, uninterrupted transition in the angled area
Can be made of aluminium, galvanised/coated steel or stainless steel
Sturdy design, so no twisting , leading to greater belt running accuracy
Can be combined with any of our accessories
Hinged belt conveyor
Load capacity max. 50 kg/belt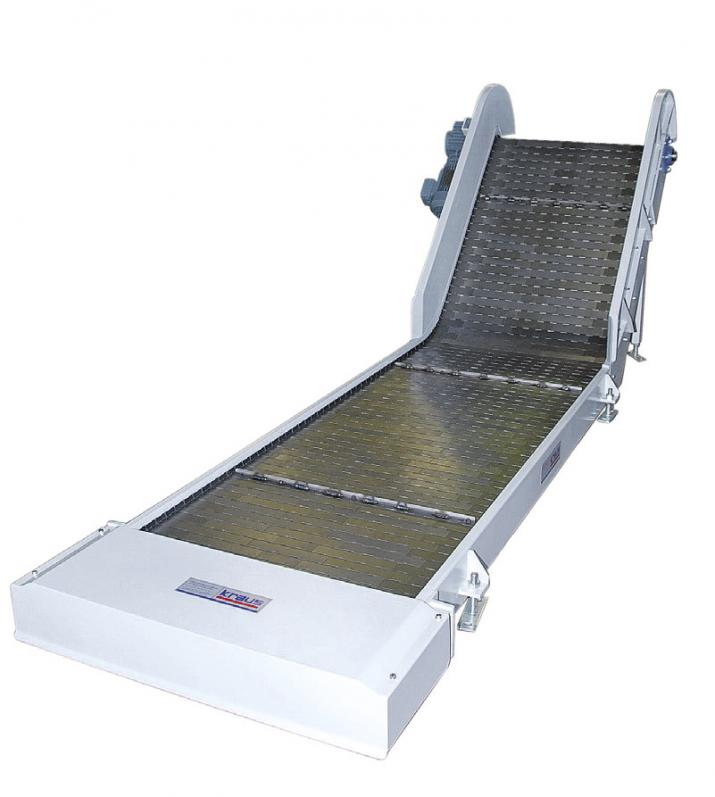 Frame structure
Basis FB 80
Aluminium system profile, anodised, with bolted cross braces
Frame dimensions: 80 x 40 mm
Basis FB 90
Steel C-profile, galvanised, with bolted cross braces
Frame dimensions: 100 x 30 x 2 mm
Hinged belt
Standard module belt
Hinged belt width
The width depends on the respective application case and the unit loads to be conveyed.
Standard conveyor lengths
2000 mm, 4000 mm, 6000 mm
Drive
Three-phase gear motor 230/400 V – 50 Hz
Standard drive position: on the right-hand side seen in direction of conveyance
Conveying speed: 3-36 m/min
Surface finish
Zinc plated steel, anodised aluminium
Advantages
Material resistant to rotting
Durable
Physiologically safe
Problem-free cleaning
Form-locking drive element
Belt curves
Load capacity max. 50 kg/curve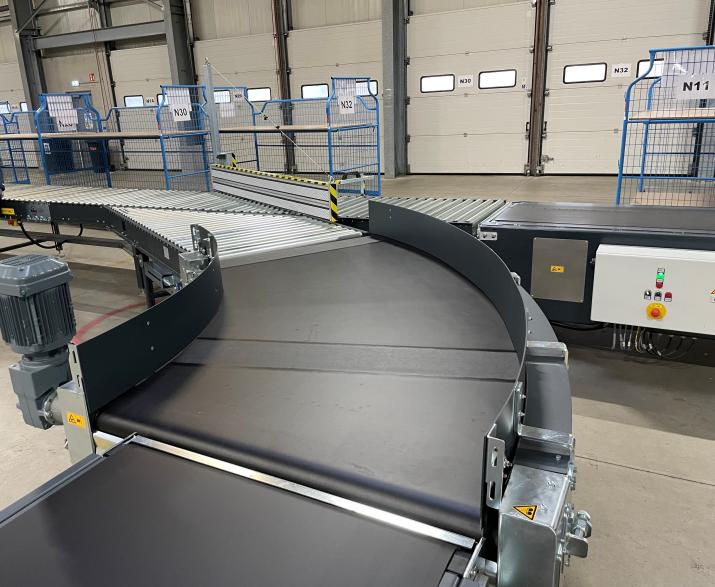 Specifications
Conveying angle
30°, 45°, 60° and 90°
Nominal radius
1.900 mm and 2.600 mm
Nominal width
450 mm until 1.050 mm
Conveying height
min. 350 mm
Conveying speed
max. 1,2 m/s
Load capacity
50 kg/lfm
Accessories
Supports, Corvers
Options
Customized dimensions, e.g. angels, radii or width
Side guards
Adjustable conveying speed
Reversing operation
Sensors, e.g. for flow monitoring
Without support or with ceiling suspension
Flexible use
The frame of the belt curves consists of stable, torsion-free aluminium profiles. The combined drive and tensioning unit ensure low-noise-operation. Coated drive pulleys and tapered conveyor pulleys are used for optimum power transmission. The belt drive works based on friction locking and is capable on conveying piece weights up to 50 kg/m.
Ergonomic
The possibility of delivering belt curves with individual conveyor angles guarantees a high degree of flexibility. Plug-on motors are used as drives, with the drive position located on the inside or outside of the pulley, depending on the conditions. This compact and lightweight design allows easy integration into existing systems. In addition, it is possible to manufacture belt curves with individual conveying angles. These are suitable for continuous operation and are virtually maintenance-free.
Conveyor belt
An antistatic belt with two fabric layers is used as standard, optionally available with smooth or structured carrying side. On request, the belt conveyor can also be supplied with a food-safe or flame-retardant belt.
Belt adjustment
All moving parts are enclosed or, like the lower run, covered with perforated sheet metal. Fine adjustment is nevertheless possible without removing protective plates.
Side guards
These are available in various heights and can be easily and seamlessly added to guards on existing conveyor system.
Telescopic Belt Conveyor (CompactLoader)
Load capacity 50 kg/m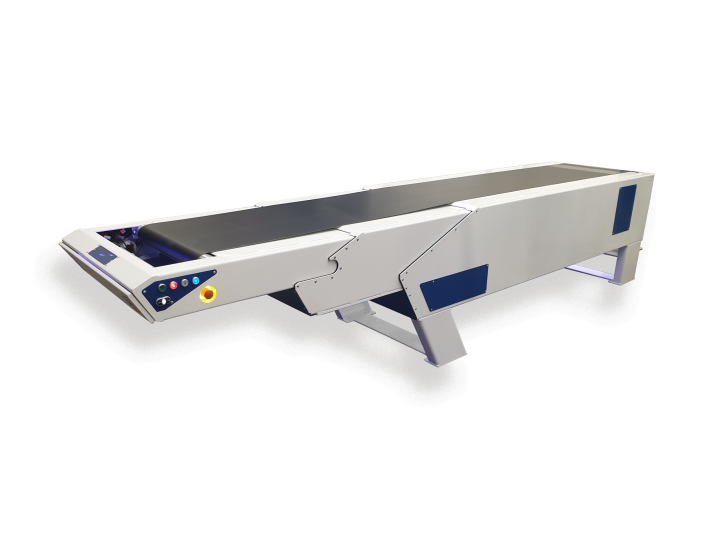 Specifications
Belt width
600 / 800 / 1.000 mm
Basic lengths
3.000 - 7.500 mm (3 stages)
5.000 - 7.500 mm (4 stages)
Extended lengths
6.000 - 18.500 mm (3 stages)
14.300 - 22.800 mm (4 stages)
Conveying height
min. 800 mm
Conveying speed
0,5 m/s
Conveying direction
Loading and unloading
Load capacity
50 kg/m
Accessories 
Ball castors / roller beds at infeed
Lighting in front segment
Options
Light sensor at infeed and / or outfeed
Hydraulic height adjustment
Mobile movable on rails
Control connection to existing conveyor system
Adjustable conveying speed
Without support or with ceiling suspension
Controls in front and sides
Physical relief
The use of telescopic conveyors supports and at the same time reduces the physical strain.
Performance increase
Performance in loading and unloading operations is significantly increased due to higher process optimization and improvement of material flow.
Profitability 
Cargo is transported directly (without intermediate storage). Furthermore, telescopic conveyors can be used quickly.
Flexibility
The same telescope can be used on multiple gates, with rail systems to move the telescopes between loading and unloading positions. With a hydraulic height adjustment (optionally available), the telescope can be adjusted in inclination to adjust the transfer point in height.
Reliability
The robust welded construction, various reinforcements and the drive concept ensure a long service life.
Safety
The telescopic conveyors fullfill all safety guidelines, such as an emergency retraction function.
SmartLoader
Easy to integrate into existing material handling systems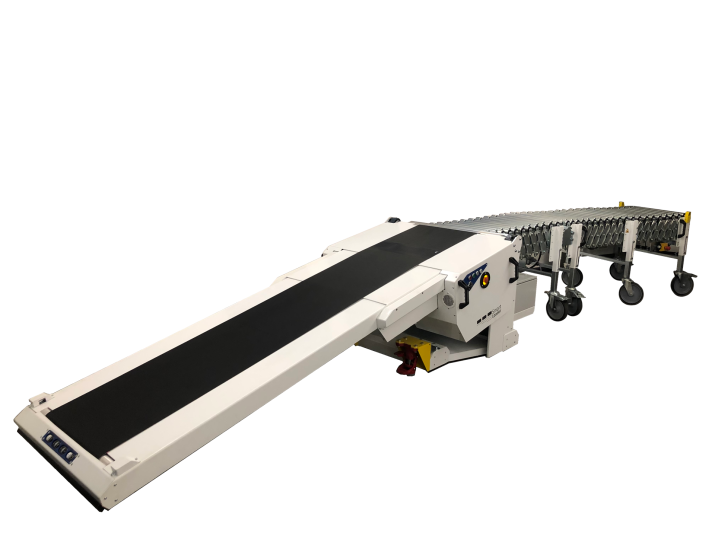 Specifications
Telescope
1.065 mm retracted / 2.030 mm extended (driven)
Tilting
+/- 17° lifting and lowering (driven)
Belt drive
Reversible 
Belt 
Width 500 mm (longitudinally grooved)
Dimensions L x D x H 
1.065 mm x 1.140 mm x 800 mm
Options
Longer extended length of approx. 3.0 m
Adjustable conveying speed
Connection to the field bus system
Integration in material handling system
Movable on rails
Ergonomic
The SmartLoader closes the gap between conveyor and container or trailer with telescopic belt.
Mobility 
The SmartLoader can be quickly and easily positioned either on castors or rails and handle a variety of loading and unloading situations.
Compact design
The telescopic conveyor has a compact design with a retracted length of 1,065 mm (up to approx. 2,030 mm when extended) and is used for loading baggage, loose unit loads and flexible shipments. 
Integration
The Smartloader is ideally suited for integration into e.g. a belt conveyor or in combination with driven extendable roller conveyors as an alternative to telescopic conveyors.
Flexibility 
The maximum extension length is achieved by means of 2 extension stages. In combination with a lifting-lowering range of approx. 17° and reversing operation, almost all loading and unloading stages, such as e.g. loading positions in containers can be reached. Depending on the connection, positioning is manual and flexible.
GroundLoader
Load capacity max. 50 kg/m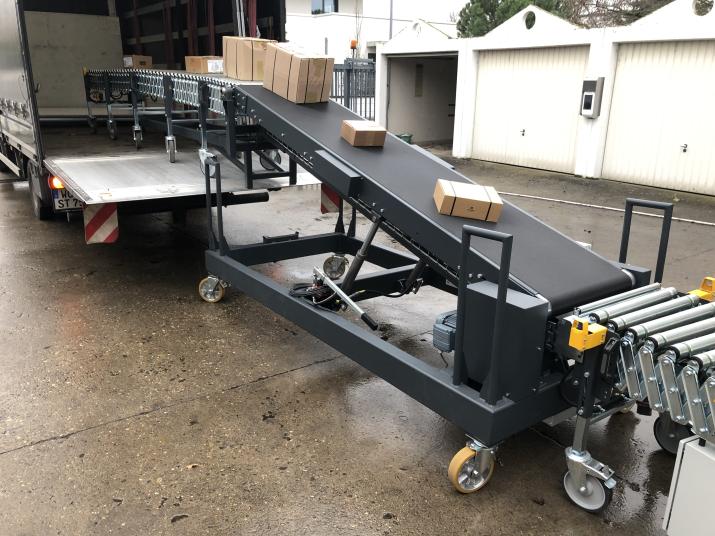 Specifications
Belt width
600 mm 
Conveying height
800 mm - 2.000 mm
Conveying speed
0,5 m/s
Load capacity
50 kg/m
Options
Extendable roller conveyor are also available as gravity conveyors
Adjustable conveying speed
Mechanical stop
Reversable conveying direction
Sensor technology, e.g. for automatic stop
Coupling to existing conveyor equipment
Hydraulic motor-driven
Application
The GroundLoader is used to bridge structural conditions, e.g. if no loading ramp is available or a truck has to be loaded and unloaded at ground level.
Construction
The GroundLoader consists of a movable frame on which a belt conveyor and a driven extendable roller conveyor are mounted on an cantilever. The belt conveyor can be hydraulically adjusted to the height of the truck. The extendable roller conveyor is extended to the appropriate loading or unloading position.
Mobility
The large diameter of the castor wheels mounted on the chassis makes it easy to move, even on uneven ground.
Connection to conveyor technology
The addition of a further extendable roller conveyor, e.g. to convey unit loads into a warehouse, is also a common solution.
Accessories
 A mobile loading and unloading platform is available on customer request.
Adjustability 
The alignment of the extendable roller conveyor parallel to the loading area can be easily adjusted.