All-purpose conveyance solution for the conveyance of unit loads

for continual material flow between machines and areas
Products
Mini module conveyor belt with motor-driven roller
Conveyance of unit loads up to 5 kg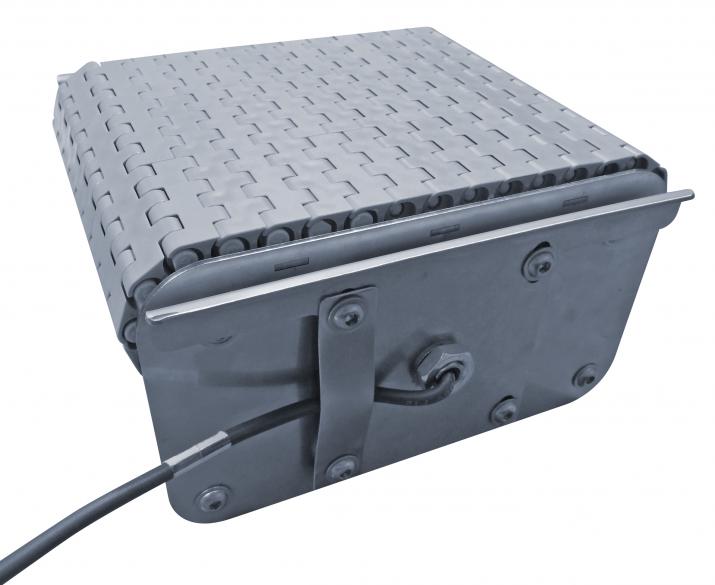 Frame structure
Special profile structure with bolted cross braces
Conveyor belt
Module belt, grey (PP, FTA-suitable)
Belt width: depending on application case and material to be conveyed
Standard widths
from 150 mm in 50 mm steps
Standard length
On request from 250 mm axle spacing
 
Drive
KRAUS motor-driven roller 24V, IP54
Reversal on both sides: Diameter 34 mm
Drive position centre with 78.8 mm diameter
Conveying speed: 3, 6, 9, 12, 15, 18, 24, 36 m/min
Surface finish
Anodised aluminium, zinc plated steel components
Advantages
Compact design as individual or connecting element
High flexibility
Maximum efficiency thanks to KRAUS motor-driven roller
Conveyor belt FB 50 ALU
Conveyance of unit loads up to 20 kg total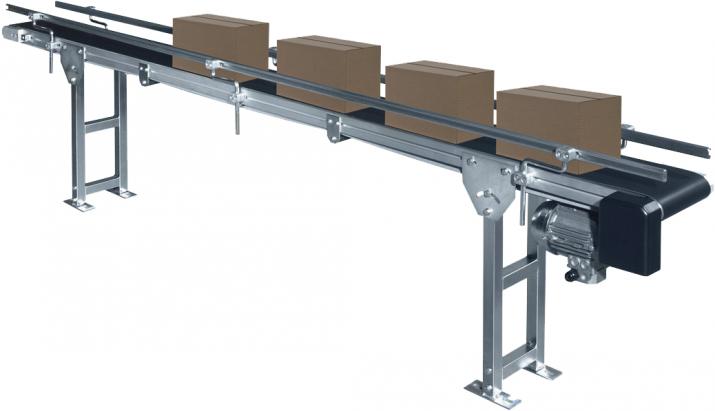 Frame structure
Aluminium system profile, anodised, with bolted cross braces
Frame dimensions: 50 x 50 mm
Conveyor belt
Standard PVC smooth, black
Belt width: depending on application case and material to be conveyed
Standard conveyor lengths
1000 mm, 2000 mm, 3000 mm, 4000 mm, 5000 mm
Drive
Three-phase gear motor 230/400 V – 50 Hz, IP55
Drum diameter: 55 mm
 
Standard drive position: on the right-hand side seen in direction of conveyance, directly attached to the drive wheel
Conveying speed: 6-30 m/min
Surface finish
Anodised aluminium, zinc plated steel components
Advantages
Safe and gentle conveyance of sensitive goods
Optimum adaptation possibility of belt version
Can be combined with any of our accessories
Conveyor belt FB 80 ALU
Conveyance of unit loads up to 50 kg total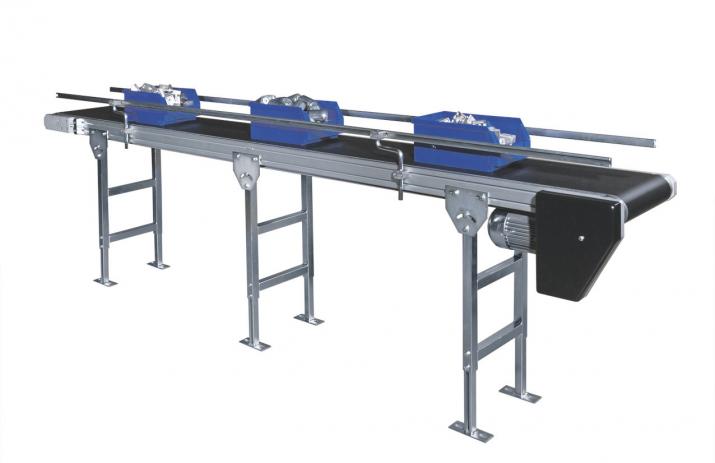 Frame structure
Aluminium system profile, anodised, with bolted cross braces
Frame dimensions: 80 mm x 40 mm
Conveyor belt
Standard PVC smooth, black
Belt width: depending on application case and material to be conveyed
Standard conveyor lengths
2000 mm, 4000 mm, 6000 mm, 8000 mm, 10,000 mm
Drive
Three-phase gear motor 230/400 V – 50 Hz, IP55
Drum diameter: 90 mm
 
Standard drive position: on the right-hand side seen in direction of conveyance, directly attached to the drive wheel or chain drive
Conveying speed: 3–36 m/min
Surface finish
Anodised aluminium, zinc plated steel components
Advantages
Safe and gentle conveyance of sensitive goods
Optimum adaptation possibility of belt version
Can be combined with any of our accessories
Combines the lightweight design of the FB50 with higher load capacity
Conveyor belt FB 90 STEEL
Conveyance of unit loads up to 100 kg total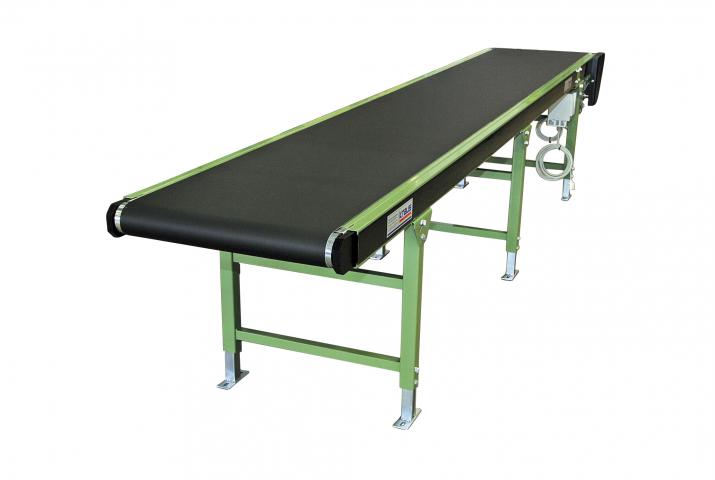 Frame structure
Steel C-profile, galvanised, with bolted cross braces
Frame dimensions: 100 x 30 x 2 mm
Conveyor belt
Standard PVC smooth, black
Belt width: depending on application case and material to be conveyed
Standard conveyor lengths
2000 mm, 4000 mm, 6000 mm, 8000 mm, 10,000 mm
Drive
Three-phase gear motor 230/400 V – 50 Hz, IP55
Drum diameter: 90 mm
 
Standard drive position: on the right-hand side seen in direction of conveyance, directly attached to the drive wheel or chain drive
Conveying speed: 6–30 m/min
Surface finish
Painted in RAL colours/galvanised
Advantages
Safe and gentle conveyance of sensitive goods, even if these have a higher weight
Optimum adaptation possibility of belt version
Can be combined with any of our accessories
Conveyor belt FB 150 STEEL
Conveyance of unit loads up to 200 kg total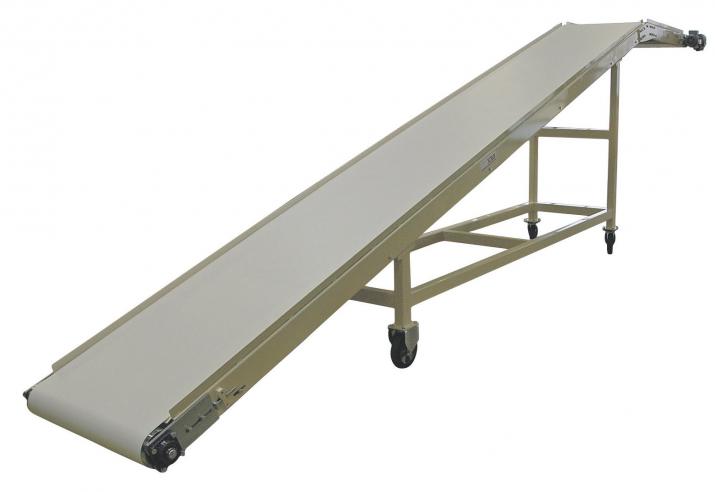 Frame structure
Steel plate (5 mm), canted, with bolted cross braces
Conveyor belt
Standard PVC smooth, black
Belt width: depending on application case and material to be conveyed
Conveyor length
on request
Drive
Three-phase gear motor 230/400 V – 50 Hz, IP55
Drum diameter: 150 mm
 
Standard drive position: on the right-hand side seen in direction of conveyance, directly attached to the drive wheel or chain drive
Conveying speed: on request
Surface finish
Painted in RAL colours/galvanised
Advantages
Use with high weight load
Optimum adaptation possibility of belt version
Can be combined with any of our accessories
Module belt conveyor FB50
Conveyance of unit loads up to 50 kg depending on design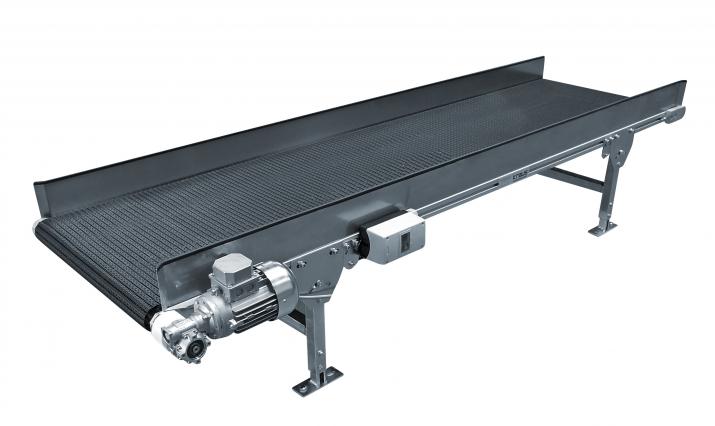 Frame structure
Steel C-profile, galvanised, with bolted cross braces
Frame dimensions: 100 x 30 x 2 mm
Conveyor belt
Module belt, grey
Belt width: depending on application case and material to be conveyed
Standard conveyor lengths
1000 mm, 2000 mm, 3000 mm, 4000 mm, 5000 mm
Drive
Three-phase gear motor 230/400 V – 50 Hz, IP55
Drum diameter: 50 mm
 
Standard drive position: on the right-hand side seen in direction of conveyance, directly attached to the drive wheel or chain drive
Conveying speed: 3-36 m/min
Surface finish
Painted in RAL colours/galvanised
Advantages
Simple maintenance
Highly flexible width : length ratio
Belt surface easy to clean
Form-locking drive element
Can be combined with any of our accessories
Module belt conveyor FB90
Conveyance of unit loads up to 100 kg depending on design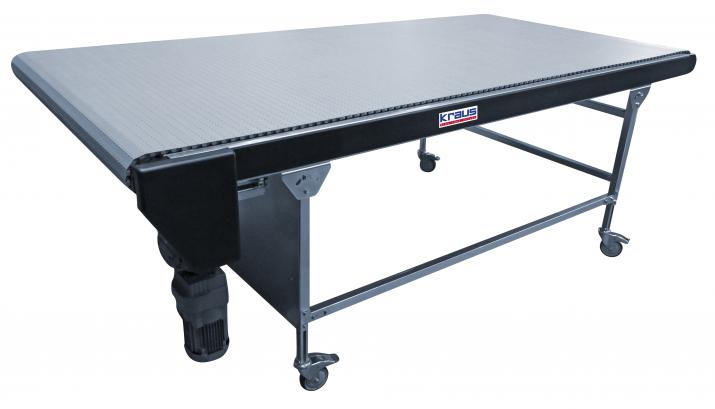 Frame structure
Steel C-profile, galvanised, with bolted cross braces
Frame dimensions: 100 x 30 x 2 mm
Conveyor belt
Module belt, grey
Belt width: depending on application case and material to be conveyed
Standard conveyor lengths
1000 mm, 2000 mm, 3000 mm, 4000 mm, 5000 mm
Drive
Three-phase gear motor 230/400 V – 50 Hz, IP55
Drum diameter: 90 mm
 

Standard drive position: on the right-hand side seen in direction of conveyance, directly attached to the drive wheel or chain drive
Conveying speed: 3–36 m/min
Surface finish
Painted in RAL colours/galvanised
Advantages
Simple maintenance
Highly flexible width : length ratio
Belt surface easy to clean
Form-locking drive element
Can be combined with any of our accessories
Angled belt conveyors
Load capacity max. 200 kg total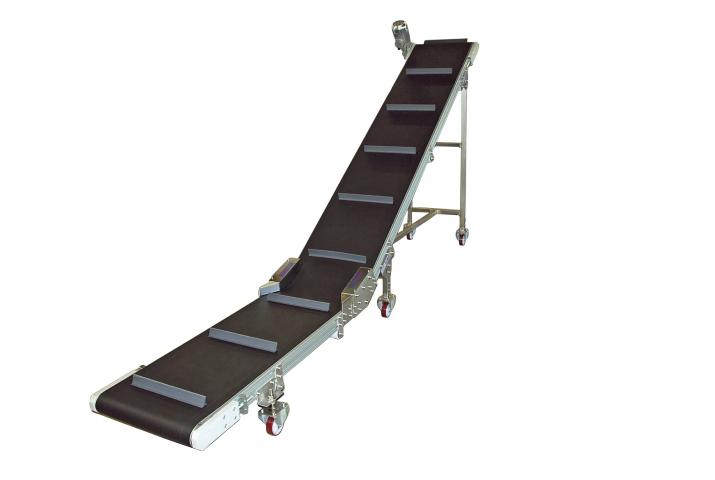 Version
Angled belt conveyors permit stepless, uninterrupted transitions with horizontal inflow and/or discharge zones.
These horizontal conveyor belt zones guarantee smooth transition of the products to the conveyor belt or from the conveyor belt to further Systems.
An angled belt conveyor version is possible for all conveyor belt types (FB 50 ALU, FB 80 ALU, FB 90 and FB 150).
 
Advantages
Very good pick-up or discharge of the conveyed products
Stepless, uninterrupted transition in the angled area
Can be made of aluminium, galvanised/coated steel or stainless steel
Sturdy design, so no twisting , leading to greater belt running accuracy
Can be combined with any of our accessories
BAT conveyor belts
Maximum load per conveyor 150–300 kg, depending on the pulling force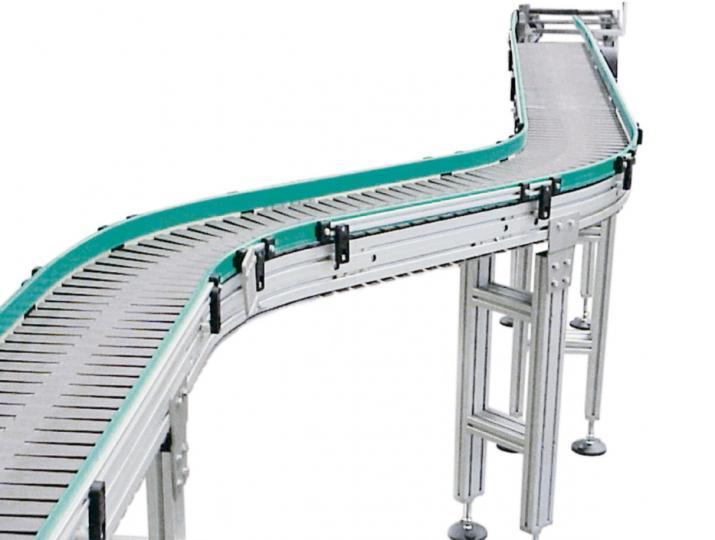 Load capacity
Horizontal conveyance: max. 30 kg (to keep wear of the gliding rail low)
Ascending conveyance: max. 15 kg (depending on the power of the pusher Dogs)
Maximum load per conveyor: 150–300 kg, depending on pulling force, overall load on the chain and design
General product description
At the heart of this three-dimensional system is a linked belt chain which can be moved in all directions and is guided in an aluminium Profile.
The easy to assemble basic modules offer almost unlimited combination Options.
Bend wheels and slide bends are used to change direction.
The chain is usually smooth, but can be enhanced by so-called "pusher dogs" to make workpiece conveyance at a gradient greater than 5 possible.
The conveyor system works with chain systems in the widths 31.8 to 304.8 mm.
Maximum length of the conveyor
20–25 m, depending on the overall load, capacity of the drive unit, speed and design
 
Versions
Aluminium or stainless steel profile
Different chain versions (food-safe, with non-slip inserts, with wheels, with flexible pusher dogs, made of stainless steel)
Drive unit
Worm gearmotor 230/400 V
as an end drive unit: with roller chain overdrive or fitted on the side of the end piece as a shaft mounted gearmotor
Useful width of conveyor
BAT K 325
For small products such as dairy and frozen products, bottles, parcels up to 20 mm in width with fixed or adjustable lateral guides
BAT K 750
For conveying larger products (container conveyance) in a width range of 220 to 400 mm
Hinged belt conveyor
Load capacity max. 50 kg/belt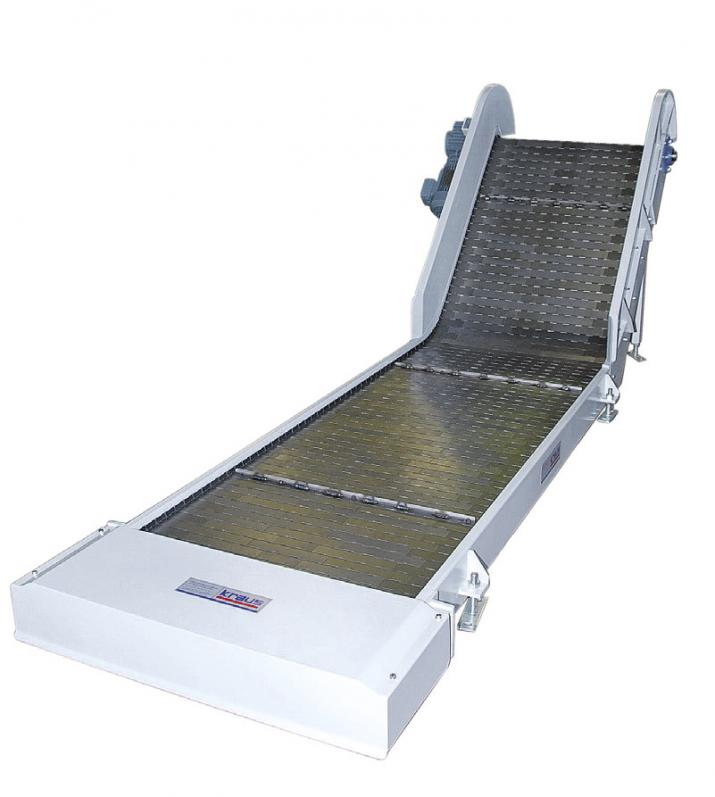 Frame structure
Basis FB 80
Aluminium system profile, anodised, with bolted cross braces
Frame dimensions: 80 x 40 mm
Basis FB 90
Steel C-profile, galvanised, with bolted cross braces
Frame dimensions: 100 x 30 x 2 mm
Hinged belt
Standard module belt
Hinged belt width
The width depends on the respective application case and the unit loads to be conveyed.
Standard conveyor lengths
2000 mm, 4000 mm, 6000 mm
Drive
Three-phase gear motor 230/400 V – 50 Hz
Standard drive position: on the right-hand side seen in direction of conveyance
Conveying speed: 3-36 m/min
Surface finish
Zinc plated steel, anodised aluminium
Advantages
Material resistant to rotting
Durable
Physiologically safe
Problem-free cleaning
Form-locking drive element
Belt curves
Load capacity max. 50 kg/curve at 90° angle around the corner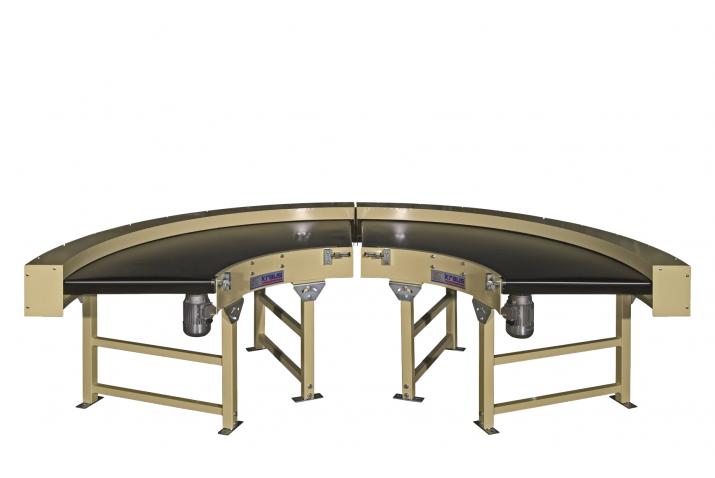 Frame structure
Coated steel plate with welded cross braces or stainless steel
Conveyor belt
Two-layer polyester fabric with the respective cover support required
Belt deflection
Cylindrical end rollers make problem-free connections to all belt conveying systems possible
No lubrication in the belt area
Inner radius
Standard: 600 mm, 900 mm
Conveyance angle
Standard 90°, special versions 30° to 180°
Standard useful width
200 mm, 300 mm, 400 mm, 500 mm, 600 mm, 800 mm, 1000 mm
Drive
Three-phase motor 230/400 V – 50 Hz
Located underneath in the centre on the outer radius (either inside or outside the Frame)
Suitable for reverse operation
The force is transmitted by means of a friction wheel
Conveying speed: constant or steplessly adjustable
Surface finish
Painted in RAL colours/galvanised
Advantages
Extremely versatile
Quiet, safe to use and low-maintenance
Optimum adaptation possibility of belt version