There are different modules available for changing direction
Products
Turning unit
Load capacity matched to the roller conveyor system
Use
Transfer of the material to be conveyed to various conveyor systems in the same direction of conveyance.
To turn the material to be conveyed in any direction for the next processing steps.
 
System
A ball bearing turntable is used as the turning unit. Rotation can be carried out manually or power-driven.
 
Positioning
Manual fixing using locking bolts
With chain drive (max. 180° swivel range)
With central drive (free positioning)
 
Drive
Manual or with three-phase gear motor 230/400 V – 50 Hz
 
Conveyor width
Adapted to the respective roller conveyor system.
 
Design Height
300 mm
 
Accessories
Lift table or pneumatic lifting unit
 
Surface finish
Painted in RAL colours

 
Chain discharge section
Load capacity matched to the roller conveyor system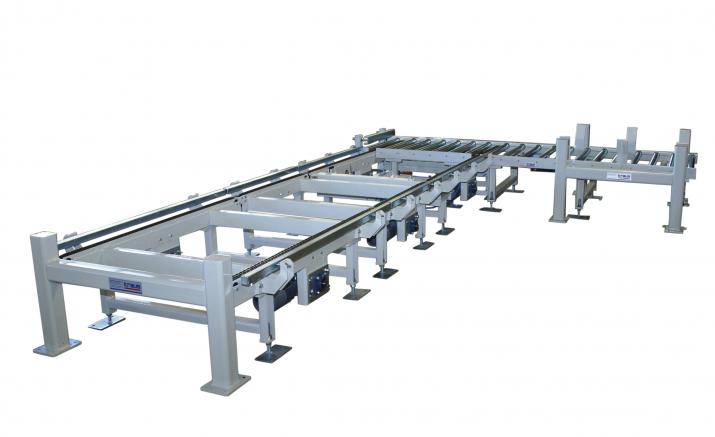 Use
As an alternative to roller conveyors for conveying pallets width-wise.
Integrated in roller conveyors as a lateral conveying unit.
 
System
Several tracks with chains on slide rails are driven via a central motor.
 
Positioning
Free choice of number of tracks
Any lengths up to 6000 mm
 
Drive
Three-phase gear motor 230/400 V – 50 Hz
Central motor shaft deflection wheels
 
Track spacing
Adapted to the roller conveyor system and material to be conveyed.
 
Design Height
300 mm
 
Accessories
End stop, lateral guide, stopper cylinder
 
Surface finish
Painted in RAL colours